Catering in Arizona
Фильтр
7
объявлений отсортированных
по популярности
My name is Olga and I offer you delicious custom-made convenience foods. I have a selection of handmade dumplings with beef and pork. Dumplings with p...
You have the opportunity to enjoy the taste of real home cooking without any hassle! I offer services for preparing delicious dishes to order. Pilaf i...
Hallo! I suggest you enjoy delicious Tatar bread, dumplings and ochpuchmeks. We also have different pies: Royal cheesecakes, Angel's Tears, Fried Wind...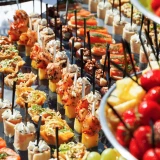 Catering is a bespoke catering service that is usually provided for specific events such as corporate events, weddings, conferences, anniversaries and...
Assalomu alaykum Arizona, Tempeda o'zbek halol taomlariga zakaz olamiz. Dostavka qilib beramiz. Osh; Manti; Honim; Somsa; Lagmon; Non; Chuchvara (qa...
I prepare homemade meals to order: dumplings (handmade), dumplings. Everything is prepared with organic products. Pickup from Tempi. Delivery is poss...
Catering for corporate events, weddings, birthdays, kiddos, bar and bat mitzvahs, and more! We focus on quality, impeccable service and delicious cul...
Catering
3375 E Shea Blvd c2, Phoenix, AZ 85028
Popular services in the USA
Catering в других городах