Restaurants in Arizona
Filter
3
объявлений отсортированных
по популярности
Olive Garden Italian Restaurant offers a wide range of European dishes. The staff, who has extensive experience in holding and servicing banquets, org...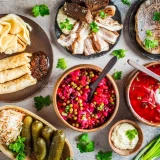 When we opened this restaurant, our goal was to bring together all of our favorite Eastern European food in one place for Phoenix people to enjoy. We...
Restaurants
13240 N 7th St, suite 4-5 Phoenix, AZ. 85022
The Russian Uzbek restaurant offers a wide range of different dishes, lamb kebabs and chops, salads, homemade cakes and much more. The interior is d...
Popular services in the USA
Restaurants в других городах