Cleaning service in Atlanta, GA
Фильтр
12
объявлений отсортированных
по популярности
Hi! We offer professional cleaning services for commercial offices in Alpharetta, Buford, Sugar Hill, Norcross, Cumming, Lawrenceville, Suwanee and mo...
Affordable and high-quality cleaning services at your disposal! Take a break from the hassle of cleaning and let us handle it for you! Our team offers...
I am Olesya and I provide professional cleaning services. If you need help cleaning your house or apartment, please contact me. I will be happy to hel...
Hi! I offer high-quality cleaning of houses and apartments, as well as additional services, such as mini-repairs, restoration, painting walls and ceil...
We cut trees by mountaineering in a limited space near the fence, house and wires. All works are licensed and insured! We have been working since 2011...
Welcome! We are happy to introduce you to our new cleaning company - 5 star cleaned.com. We offer fast, efficient and high-quality cleaning and cleani...
I want to talk to you about the importance of cleaning your home and windows regularly, and why it's best to leave this task to professionals. ‍️ Was...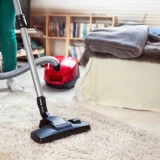 Friends! We're a big family with kids. I offer you cleaning services for your house or apartment! We will do everything soundly and efficiently, becau...
Good day! We offer a cleaning service. Houses, apartments, apartments and offices, residential and commercial premises. We take on objects of differen...
I provide services: cleaning offices, houses, cottages and other premises; Cleaning after relocations and events; Cleaning apartments: before rentin...
Hallo! I provide cleaning services. Houses, apartments, offices and commercial spaces. I take up various types of pollution. It is possible to work b...
Cinderella is a service for those who want to live cleanly and not waste time cleaning. While you are doing important work, we will clean up your apar...
Popular services in the USA
Cleaning service в других городах