External works in Atlanta, GA
Filter
9
ads sorted
by popularity
Friends, we invite you to the world of beauty and comfort with us! We specialize in creating incredibly beautiful and functional fences and decks. Whe...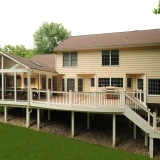 Ali is your reliable partner in building a turnkey house. We create a space for you where every detail will serve your comfort and coziness. Our proje...
Are you planning to upgrade your interior or exterior? We're ready to make it perfect! Our team of craftsmen performs work on: Painting rooms inside a...
Our team offers high-quality house painting services that will give a new look to your home. We use only the best materials and modern equipment....
Gutter Bro is your true friend who will take care of cleaning the house. We are a gutter cleaning service in Atlanta and provide a variety of roof c...
External works
204 Birch Rill Dr, Alpharetta, GA 30022
We build custom-made greenhouses, sizes 10x16 and 10x20ft. Double doors (50 in. width), 2 exhaust fans, fan socket. We're using a pressure treaded tr...
Remsvol, LLC will carry out any stage of the construction of your site, from clearing, planning and building engineering networks to implementing turn...
External works
4625 Alexander Dr, Alpharetta,, Alpharetta, GA
Friends, it's time to PLEASE you even more For a long time, we have been looking for, testing and selecting for you the youngest, most beautiful,...
External works
3123 Colonial Way Atlanta, GA 30341
A professional gardener offers services to improve your plot, garden, cottage, private house. Landscaping; Mowing lawns; Caring for flowers; Prun...
Popular services in the USA
External works в других городах