Grooming in Chicago, IL
Filter
9
объявлений отсортированных
по популярности
С огромным удовольствием прогуляюсь с вашим питомцем. Так же начинающий грумер, за приятную цену сделаю стрижку. К животным отношусь с трепетом и любо...
Раді повідомити, що ми відкрилися і готові дбати про красу та комфорт ваших домашніх улюбленців!Надаємо професійні послуги грумінгу для всіх порід соб...
Grooming
1915 West Golf Road Schaumburg, IL, 60194
My name is Karina and I'm an experienced groomer. I invite your furry friends to spa treatments that include: Hygiene services Stylish breed haircut E...
At A True Love And Loyalty Pet Grooming, we do our best for our pets and their loving owners. We're based in Grayslake, IL. Our team of professionals...
Grooming
West Chardon Road, Grayslake, IL 60030, United States Grayslake, IL, US 60030
Welcome to us, where your furry baby will receive special attention and care. We offer a full range of services for your pet. Whether it's grooming, g...
Grooming
837 W Touhy Ave, Park Ridge, IL 60068
Welcome! I am a professional groomer in Chicago and have missed all the owners of chotirilapic friends for a good haircut. I'm rozumiy, it's important...
Does your pet need quality care? Our experienced groomers will be happy to help you! They know how to take care of your pet to make him look even more...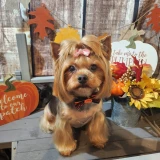 Welcome to my regular customers as well as new ones! I am honored to invite you to book dates for grooming your pet today. Already from February the...
GROOMING/HAIRCUT/ CHICAGO, FRONT Groomer's services from home to the patient; Grooming children and middle-aged dogs and cats; Individual pidhid!...
Popular services in the USA
Grooming в других городах