Road Lawyers in Chicago, IL
Фильтр
6
объявлений отсортированных
по популярности
Will you need legal help to feed the road crash? To fight to me - paraligal from the nutrition of the road ruin, Yulia. My specialty is the zahist is...
Our team is ready to help you with your ticket! We are not lawyers, but we offer expert help in dealing with ticket issues. Our team has extensive exp...
We specialize in a wide range of legal services, including traffic law, drunk driving law, CDL fines, and criminal law. In addition, we provide legal...
Have you had an accident and don't know what to do? DTP America is the only company that helps Russian-speaking people in the United States deal with...
I work in the following areas of legal practice: physical harm: car accidents and injuries, fall injuries and injuries, medical errors, citizenshi...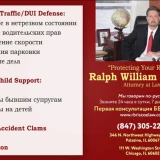 DUI Traffic tickets Suspended DL Any criminal charges Contracts Family law We speak Russian! Call 24 hours a day, 7 days a week. The first con...
Family law
346 N. Northwest Hwy Palatine, IL 60067
Popular services in the USA
Road Lawyers в других городах