What to watch in Georgia
Фильтр
7
объявлений отсортированных
по популярности
The Original Selfie Museum is the first creative space specifically designed to take your photos and videos to a new level of wonder. The original sel...
What to watch
116 Centennial Olympic Park Dr SW, Atlanta, Georgia 30313
The oldest zoo in the United States (1889), home to 1,300 animals collected from all over the world. The locals are especially proud of the largest f...
What to watch
800 Cherokee Ave SE, Atlanta, GA 30315
A unique and unique museum in the world, Coca-Cola, the most popular drink on the planet and the most popular brand in the world. It was from here...
What to watch
121 Baker St NW, Atlanta, GA 3031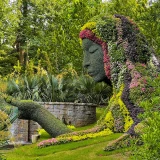 Another attraction of the city is the botanical garden, which covers an area of 12 hectares. A huge collection of gorgeous and charming orchids, a...
What to watch
1345 Piedmont Ave NE, Atlanta, GA 30309
Oakland Cemetery is Atlanta's oldest cemetery. Founded in 1850 on the outskirts of the city, it was simply called Atlanta Cemetery. The city grew, an...
What to watch
248 Oakland Ave SE, Atlanta, GA 30312
Any map of Atlanta's attractions will point you to this house-museum where the creator of the Pulitzer Prize-winning novel Gone with the Wind lived,...
What to watch
979 Crescent Ave NE, Atlanta, GA 30309
Centennial Olympic Park, or Centennial Olympic Park, is located in downtown Atlanta and is one of its main attractions. The centenary of the moder...
What to watch
265 Park Ave W NW, Atlanta, GA 30313
Popular services in the USA
What to watch в других городах