Other education in Hallandale Beach, FL
Фильтр
14
объявлений отсортированных
по популярности
The "Photography as Fun" online course includes eight ZOOM sessions of 120 minutes each. Individual and group street photography workshops. Joint phot...
We invite children from 2.5 to 5 years old to classes! Children stay with us from 8.30 a.m. to 2 p.m. The program includes: Educational education...
I teach drawing lessons. I've been drawing for 10 years now. We draw on different materials and work using different teaching methods. We are improvi...
Workshops
18344 W Dixie Hwy North Miami Beach, FL 33160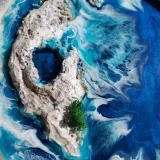 I am opening a master class for Christmas and New Year. We will be creating 2 Christmas tree decorations (3 inches each): the ocean at night and durin...
Enjoy a truly one-of-a-kind experience. Public and private activities and much more! Instructed by David Cole -- renowned chef and author of Amazon's...
Other education
5601 Corporate Way, West Palm Beach, FL 33407
Hi there! I would like to invite you to my online course "Neurography from scratch". Where we will learn the basic algorithm, as well as the algorithm...
Friends, I invite you to individual and group nailing practices. The practice includes: warm-up, breathing practices, meditations. We will work out al...
We help you obtain licenses without taking exams based on your experience and education. Cosmetologists (cosmetics); Aesthetists (esthetician); Hair...
Gong meditation is a practice for those who are still cramped, who are ready and want more. This is about your strength, scale, and great opportuniti...
▪️ modern coloring techniques ▪️ haircuts and styling ▪️ care and restoration of damaged hair ▪️ styling for yourself We provide support after trai...
Are you ready to learn something new? Then welcome to Beat Heaven DJ Academy, one of the leading schools of its kind. Our goal is to give students th...
Other education
3400 NW 7th Ave, Miami FL 33127
Would you like to try kiteboarding in Miami? We offer training for this exciting sport! Regardless of your level of training, our experienced instruct...
Hi! For all those who love art and drawing, invite you to visit Art Workshop by professional artist Kate Gedz to draw together and have a good time....
Greetings! Would you like to learn to DJ? I offer you DJing courses from scratch in North Miami. During the lessons, you will learn the basics of mix...
Popular services in the USA
Other education в других городах