Dwm-dui in Illinois
Фильтр
4
объявлений отсортированных
по популярности
We specialize in a wide range of legal services, including traffic law, drunk driving law, CDL fines, and criminal law. In addition, we provide legal...
Igor G. Gromov, director and founder, founded Gromov Law Offices as a leading law firm dedicated to helping individuals in and around Chicago solve co...
Dwm-dui
1020 N. Milwaukee Ave., Suite 101 Deerfield, IL 60015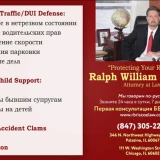 DUI Traffic tickets Suspended DL Any criminal charges Contracts Family law We speak Russian! Call 24 hours a day, 7 days a week. The first con...
Family law
346 N. Northwest Hwy Palatine, IL 60067
I work in the following areas of legal practice: physical harm: car accidents and injuries, fall injuries and injuries, medical errors, citizenshi...
Popular services in the USA
Dwm-dui в других городах