Elderly care in Miami, FL
Filter
3
объявлений отсортированных
по популярности
Hello, I can be a care assistant for the elderly, I know how to cook delicious food and light cleaning. I am sociable, I easily find a common langua...
I offer care services for the elderly. Body hygiene, feeding, diaper replacement, wound care, walking. I have experience in this job and a lot of good...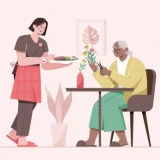 I provide babysitting services. I do medical procedures, help with household chores and personal hygiene. I also teach courses at the National CPR F...
Popular services in the USA
Elderly care в других городах