Nannies in New Jersey
Filter
9
объявлений отсортированных
по популярности
My name is Yulia and I offer professional babysitting services with extensive experience working with children of different ages. I can provide refere...
My name is Elena and I am ready to offer you a variety of services to make your life easier. I'm a cook ready to cook delicious meals. I can also take...
Hello, my name is Elena and I'm here to help you! I have extensive experience working with disabled children who require additional care and support....
Nannies
Marlboro, Manalapan, Old bridge
Your children will be cared for and cared for when you are away. Contact me for more information!
Looking for a trustworthy babysitter for your kids? I provide professional babysitting services with experience. I can look after your children at any...
Hi everyone! I offer babysitting services and have experience in this field. I love kids and care about them. My main goal is to create a safe and car...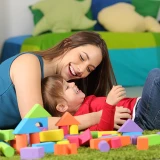 My name is Lyudmila and I provide babysitting services. I'll look after your kids. I have extensive experience and can easily find a common language w...
I offer babysitting services. I am punctual, responsible, decent, without bad habits. I speak Russian and Ukrainian. There is no English. I would lov...
She vikladala English mov in the Ukrainian school for 26 years. I shukai the babysitter robot, including additional help with light home wallpapers (f...
Popular services in the USA
Nannies в других городах