Bars in New Jersey
Filter
9
объявлений отсортированных
по популярности
Наш ресторан надасть гастрономічний тур, після якого ви точно залишитеся в захваті! В нас Ви зможете попробувати справжню українську кухню, нас...
Bars
111 Wagaraw Rd, Hawthorne, NJ 07506
Welcome to Ruben's Pizza for real Italian flavors! Our pizza is a combination of crispy dough with delicious, fresh ingredients. We have many variants...
Bars
2191 Spruce StEwing Township, NJ 08638
Super Delicatessen is a place where you will always find fresh and high-quality food products. We invite you to our restaurant where you can taste our...
Bars
1225 Brunswick Ave Lawrence Township, NJ 08648
Welcome to Super Kiszka Deli! Here you will find the best Polish products and delicious homemade dinners. Our menu changes daily, so you will always f...
Bars
125 Wallington Ave Wallington, NJ 07057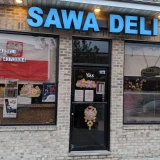 Sawa Deli is a restaurant where lovers of Polish cuisine will find everything they need to satisfy their culinary desires. Our restaurant offers a wid...
Bars
586 Avenue C b Bayonne, NJ 07002
RoadHouse Deli is a local family business in Boonton, New Jersey. Our goal is to offer the highest quality Polish food at the lowest price. We want to...
Bars
710 Myrtle Ave Boonton, NJ 07005
Delicious homemade dishes of Polish cuisine to order. Always fresh, always polish! Special offers every day!
Bars
360 Main AveWallington, NJ 07057
Poland Chata Your favorite Polish delicatessen in the area! We have many different Polish products, as well as fresh, tasty homemade dinner/dinner pla...
Bars
3294 Washington Road, Parlin, NJ 08859
We believe in the quality-quality of good company, good atmosphere + good food. Bell mansjon is located on a perfect hill in standhope, nj-directly th...
Bars
11 Main St Stanhope, NJ 07874
Popular services in the USA
Bars в других городах