Post services in New Jersey
Filter
6
объявлений отсортированных
по популярности
We are American Y&Y, your trusted partner on the right side of international transportation and delivery. Regardless of your needs, we are ready to se...
Our company specializes in international transportation by sea and air, ensuring reliable and efficient delivery of your cargo to any destination. Reg...
Post services
1152 NJ-10, Randolph, NJ 07869
Dompak Corporation is a company dealing with sending parcels, resettlement goods, commercial goods from the USA to Poland and to most countries of the...
Post services
201 Hartle Street Suite A Sayreville, NJ 08872
Sea and air travel to Ukraine and in other countries of Skhidnoy and Zakhidnoy Europe. We also deliver packages to the region of Central Asia. A reli...
Post services
1152 State Route 10, Suite K, Randolph, NJ 07869
Ukraine Express - fast and reliable delivery to Ukraine and Eastern Europe. Thanks to the rapid development of technologies and the emergence of new...
Post services
78 McCullough Dr New Castle, DE, US 19720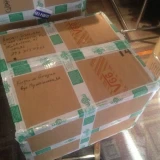 Roxolana International provides qualified services using modern technology in the field of transporting goods from online stores, large and small good...
Popular services in the USA
Post services в других городах