Schools in New Jersey
Filter
12
ads sorted
by popularity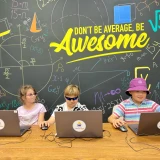 Основные направления:Основы создания игр для детей 4-6 лет;Программирование в Minecraft;Создание игр в Roblox Studio;Робототехника для детей от 4 до 1...
The Polish Jagiellon School is waiting for you! Join the PSJ Family!
Schools
170 Paulison Ave Passaic, NJ, US 07055
We are a non-profit organization that gives children the opportunity to gain knowledge about the language, culture and history of the country of their...
Schools
752 Big Oak Road Morrisville, PA 19067
In 2006 Maria Kosakowska became the principal, M.Sc. Maria Kosakowska, who enrolled the school at the Headquarters of Polish Secondary Education Schoo...
The district maintains an online graduate database as a service to Wallington High School alumni. Its goal is to help former classmates keep in touch...
Schools
32 Pine Street Wallington, NJ 07057
Together, we continually strive to serve the diverse needs of our parish and wider community, with a focus on the unwanted and marginalized. We wish...
Schools
1911 Union Valley Rd Hewitt, NJ 07421
Polish School Nest 946 cooperates with the largest Polish organization Polish Falcons of America, which helps to provide advice not only to students,...
Schools
99 N 13th Ave Manville, NJ 08835
Our school offers numerous extracurricular activities for different age groups. Depending on the interests of the child, we offer art, music, theater...
Schools
368 Sumner Ave Plainfield, NJ 07062
Enrollment at IndigoKid Montessori School is now open. This is a great opportunity to help children reach their potential and contribute to the...
Schools
13-01 Pollitt Drive Extension, Fair Lawn, NJ 07410
The Aleksander Janty-Połczyński Polish School in Lakewood is a social and non-profit institution. Its welfare organization is the Polish Heritage Cen...
Schools
1143 East County Line Rd, Lakewood , NJ 08701
The school was established in 1999. For more than ten years we taught at Mt. Olive High School, Morris County, New Jersey. Since 2013, we have been a...
Schools
1686 County Rd 517, Allamuchy Township, NJ 07820
The Lomonosov Russian School helps Russian-speaking children support and develop the Russian language. In addition to attending classes, children and...
Schools
5 Carnegie PlazaCherry Hill, NJ 08003
Popular services in the USA
Schools in other cities