Truck repair shops in New Jersey
Filter
14
ads sorted
by popularity
Best prices in the area, usually same day services, from bumper to bumper service We are located in 1529 N. 31st Ave. Melrose Park&nbs...
Truck repair shops
1529 N. 31st Ave. Melrose Park
We specialize in truck repair and maintenance at Kenvil, NJ 07847, just 2.5 miles from i-80. Our team of professionals is ready to help you with any q...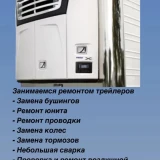 We are a team of professionals specializing in trailer repair and maintenance. Our experience and quality of work guarantee your equipment a long serv...
Trailer Tires Venom Primo Hauler 235/80/14ply – $130Bearing Set – $25Trailer Brake Drum For 7,000-IbAxles With 8 Gold 1/2-20 Press In Studs On 5 – 1/2...
Truck repair shops
186 Industrial dr, Gilberts IL 60136
Truck parking at 79 Hartford RD.Delran NJ 08075 We do all types of work from electricity to engine changes. We work with both pickups and SEVEN trucks...
Truck Parking
79 Hartford rd.Delran NJ 08075
The A&V Truck Repair truck workshop performs high-quality and fast repairs: full truck repair; collapse and convergence; tire fitting/balancing at h...
Truck repair shops
2225 Hamilton Blvd, South Plainfield, NJ
General Trucking Repair's auto repair shop has been serving the northern New Jersey area for more than 15 years. We are a family owned business provid...
Truck repair shops
745 Route 17 N. Carlstadt, NJ 07072
ROADSIDE SERVICE 24/7. PM SERVICE $550 ROTELLA T4 COMPUTER DIAGNOSTICS $100 EXTENDED WARRANTY INSURANCE CLAIMS FREE ASSESSMENTS BODY, PAINTING, W...
Truck repair shops
68 CAUSEWAY STREET, SOUTH RIVER, NJ 08882
If you have problems with the truck and need repairs, our service is happy to help you. We offer high-quality repair services and be sure that aft...
Truck repair shops
405 37th St Pennsauken, NJ 08110 United States
We repair and upgrade trailers. Manufacture and repair of moving boxes. Inset Installing and replacing doors An individual approach to each cl...
We repair and upgrade trailers. We also manufacture and repair moving boxes. We make our own robot: - Qualitatively - Fast - For a reasonable price T...
Truck repair. Road service. Tow truck services. For more information, call/write to the phone number. 562-844-0940, 845-668-1583
Toving | Evaciators
79 Hartford RdDelran, NJ 08075
Roadside assistance around the clock! Pickup Truck Services: Brake replacement and repair. Wheel replacement. Replacing oil and filters. Welding w...
We work quickly and efficiently, we take it cheaply.
Truck repair shops
3220 Bordentown old bridge nj
Popular services in the USA
Truck repair shops в других городах