Cafes in Philadelphia, PA
Filter
13
объявлений отсортированных
по популярности
Try delicious Uzbek steamed dumplings - dumplings. Made from tender dough and tender lamb or beef with onions, they will give you a unique taste and a...
Introducing our new bakery in town!Discover a world of irresistible delight with our delicious pastries, including cupcakes, French macarons and chees...
Cafes
1806 Brownsville Rd, Trevose, PA 19053
Dear customers! Great news! The "Amazing Foods" trailer from Alina is now open. I've added new items to the menu: Siberian dumplings (Russian meat rav...
Welcome to our Uzbek cafe! Would you like to enjoy delicious Uzbek cuisine in the heart of Philadelphia? Then you're in the right place! We invite you...
Cafes
742 Red Lion Rd. Philadelphia PA 19115
Café lava offers unique cuisine and a relaxed atmosphere. The restaurant is conveniently located in Philadelphia. Lava is an elegant European style...
Cafes
13033 Bustleton Ave, Philadelphia, PA 19116
Chaykhana Uzbekistan Restaurant. We have been offering delicious Eastern European cuisine for over 25 years. The restaurant was founded in 1993 at ou...
Cafes
12012 Bustleton Ave, We are 12 minutes from Parx Casino, Филадельфия, PA 19116-2108
The restaurant offers a variety of European dishes: everything from Lobster a la Russe to foie gras, as well as various desserts, creme brulee, creme...
The Italian restaurant offers a huge selection of dishes for lunch or a holiday, and the menu always includes homemade pasta and a wide variety of fre...
The restaurant offers European, Italian and Arabic cuisine. A large selection of alcoholic and soft drinks. Arabesque parties on weekends. Live music....
The pizzeria restaurant offers a huge selection of pizza, pasta and other Italian dishes cooked in a wood-fired oven. High-quality service and afforda...
Cafes
2nd Street Pike 1045, Richborough, PA 18954
Welcome to Famous Cafe. Great food, unique atmosphere! Our offerings: A wide variety of dishes: from gourmet breakfasts to inspiring lunches — we have...
Cafes
1103 S Braddock Ave, Pittsburgh, PA 15218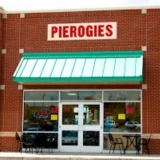 Jolanta and Marek were born and raised near Krakow, Poland. They emigrated to the United States in the early 1980s. Here, they created their own resta...
Fast food for lovers of Eastern European cuisine. We have dumplings, dumplings and much more. Friendly staff from Poland, Belarus, Russia and Ukraine....
Popular services in the USA
Cafes в других городах