What to watch in Philadelphia, PA
Filter
12
объявлений отсортированных
по популярности
37 hectares of exotic plants and trees, carefully harvested by local agronomists from all over the world. The picturesque park is divided into themati...
What to watch
100 E Northwestern Ave, Philadelphia, PA 19118
The first zoo opened in Pennsylvania. Since the beginning of the 19th century, rare species of exotic animals have been brought here. Today it is the...
What to watch
3400 W Girard Ave, Philadelphia, PA 19104
This is a huge covered market, which is deservedly included in the list of the city's main attractions. Founded in 1893, this market is one of the old...
What to watch
51 N 12th St, Philadelphia, PA 19107, United States
This house on Arch Street is famous for allegedly being home to seamstress Betsy Ross, the creator of the first American flag, several centuries ago....
Alfort Alley is America's oldest residential street. Walking along its paving stones between small colorful houses, you can feel like you are in the 1...
What to watch
126 Elfreth's Alley, Philadelphia, PA 19106
The University of Pennsylvania is a US private research university located in Philadelphia. It was founded in the middle of the 18th century (1740) as...
The Philadelphia Museum of Art is one of the largest art museums in the United States, with about 240,000 exhibits. The Pennsylvania Museum of Art (wh...
What to watch
2600 Benjamin Franklin Pkwy, Philadelphia, PA 19130
The prison existed from 1829 to 1969. It contained many notorious criminals. Until 1993, the prison buildings were abandoned; in 1994, a museum was op...
What to watch
2027 Fairmount Ave, Philadelphia, PA 19130, Сполучені Штати
Philadelphia City Hall, the seat of the administration of the American city of Philadelphia, located in Pennsylvania. The building is 167 m high, coun...
What to watch
1400 John F Kennedy Blvd, Philadelphia, PA 19107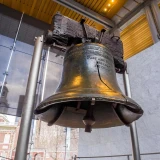 The Liberty Bell, a bell in Philadelphia, one of the main symbols of the American struggle for independence from Great Britain, called residents of th...
What to watch
526 Market St, Philadelphia, PA 19106, Сполучені Штати
Independence Hall is a building on Independence Square in Philadelphia, Pennsylvania, USA, known as the place where the Declaration of Independence wa...
What to watch
520 Chestnut St, Philadelphia, PA 19106
The romantic name "Magic Gardens" is an unusual house located on one of the city streets. Its walls are completely covered with pieces of tile and gla...
What to watch
1020 South St, Филадельфия, PA 19147-1936
Popular services in the USA
What to watch в других городах