Music courses in West Sacramento, CA
Фильтр
10
объявлений отсортированных
по популярности
I have a Bachelor's degree and a Master's degree from the San Francisco Conservatory of Music. I'm a school vendor. I'm also a member of the MTAC musi...
My name is Nastya and I will be happy to teach you how to play your favorite instrument. 5 years of work experience. She worked with both young childr...
Music lessons for kids and adults! VIOLIN MUSIC THEORY SOLFEGGIO We invite you to learn to play the violin and study musical notation using the meth...
Good day, my name is Yana! I will teach gri lessons on instruments and vocals. You will be able to play the gitar and piano with me. For more detailed...
Good day to all of you. I teach vocal lessons and have a master's degree. Performer and teaching experience. He worked at the Philharmonic, the theat...
Music is an integral part of our lives. It develops our imagination, creative thinking and allows us to be more relaxed. Music lessons are very import...
I invite you to free guitar training. I'm recruiting a group of people who want to learn guitar by note. I suggest that participants take the fir...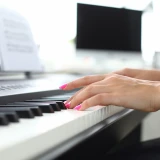 Hi everyone! I'm a pianist and I love teaching and playing. I graduated from the conservatory, and I learn to play not only by notes, but also by ear....
Hi, I teach guitar and ukulele. I'm going home. If you or someone close to you wants to learn, be sure to write. I speak English, Ukrainian, Russian I...
Професійні уроки фортепіано!Мене звати Юлія Поліщук, і я дипломований педагог фортепіано з рясним досвідом. Моя музична освіта отримана в Національній...
Popular services in the USA
Music courses в других городах