Night clubs in the USA
Filter
7
объявлений отсортированных
по популярности
The era of the dashing 90s will cover Miami next Friday! Get ready for a grand 90s-style party! On July 21st, get ready to dance and have fun to the f...
Night clubs
2345 Wilton Drive Fort Lauderdale, FL 33305
A singer with extensive performance experience and a large repertoire! I sing in several languages, creating an atmosphere:) I'm glad to see everyone...
Weddings | Anniversaries | Celebrations
1717 Fulmer St Ann Arbor, MI 48103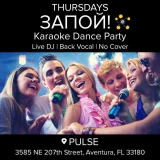 We are happy to invite you to the best Russian karaoke experience in Miami! Our Karaoke party is more than just a party! It's dance and karaoke at th...
Night clubs
3585 Northeast 207th Street, Aventura, FL, США
I photograph in the style of Life Style, Natural Simple, Fashion. I make videos for content.
Excursions | Tourist services
Canter's Deli offers you an authentic, gastronomic experience unparalleled anywhere else on the West Coast. Our endless menu is full of varied breakfa...
Night clubs
419 North Fairfax Avenue, Los Angeles, California
"TATIANA" nightclub-restaurant has been open since 2006. This stunning 10,500 square foot space was designed using traditional, modern European elemen...
Night clubs
1710 E Hallandale Beach Blvd Hallandale Beach, Florida
The nightclub and restaurant offers European cuisine and a full bar, as well as a dance floor and Philadelphia's best DJ's. High-quality service and f...
Night clubs
205 Bainbridge Street Philadelphia PA 19147
Popular services in the USA
Night clubs в других городах
Russian, Ukrainian, and Polish nightclubs in the United States offer a unique blend of Eastern European culture, music, and entertainment, creating vibrant and lively hubs for the diaspora communities and those who simply want to experience the rich traditions of these nations. From the East Coast to the West Coast, cities like New York, Los Angeles, and Chicago host some of the most exciting venues. In addition to nightclubs, bars and pubs also play a significant role in fostering a sense of community and heritage for these communities.
New York has long been a melting pot of cultures, and it's no surprise that you can find a variety of Russian, Ukrainian, and Polish nightclubs, bars, and pubs throughout the city. Brighton Beach in Brooklyn is known as "Little Russia" and is a prime location for Russian nightlife. You'll find Russian nightclubs featuring contemporary and traditional music, with energetic dancing that often includes traditional Eastern European dance styles. The city also boasts Ukrainian and Polish venues, reflecting the diversity of the immigrant communities.
Los Angeles, with its vast entertainment industry, is another hub for Russian, Ukrainian, and Polish nightlife. West Hollywood has seen the rise of several Eastern European-inspired bars and nightclubs. These venues often blend elements of American and Eastern European culture, offering a unique experience with a touch of Hollywood glamour. The energy of these clubs, infused with Eastern European music and dance, ensures an unforgettable night out.
Chicago, the Windy City, has a rich history of Polish immigration, and this influence is prominently felt in the nightlife scene. The city's Polonia Triangle is home to Polish restaurants, bars, and nightclubs, celebrating Polish heritage with live music and traditional cuisine. You can immerse yourself in the warmth and hospitality of Polish culture right in the heart of Chicago.
In addition to the dedicated nightclubs, the East European diaspora communities in these cities often gather in bars and pubs that serve as cultural hubs. These venues offer an opportunity to enjoy traditional dishes, music, and drinks in a more relaxed setting. Patrons can experience the taste of authentic pierogi, borscht, or kielbasa, while listening to live bands play folk tunes or contemporary hits from the old country.
Russian, Ukrainian, and Polish nightclubs, bars, and pubs in the United States provide an essential link to the cultural roots of their communities, allowing both locals and expatriates to celebrate their heritage and share their traditions. Whether you're looking to dance the night away or savor a hearty meal, these venues offer an authentic and lively experience that connects the Old World with the New.